Dental Crowns & Caps Beverly Hills
Dental Crowns and Caps are a great solution for teeth that have been severely damaged. Crowns safeguard cracked teeth and reestablish the functionality of your teeth. Crowns are prepared and designed specific to the needs of each tooth. Crowns are widely regarded as the prominent way to protect a tooth from constant decay and fractures. Crowns are diagnosed when teeth become damaged beyond the repair of a filling or inlays and onlays.
Restore the look of your smile
with Crowns & Caps!
We use only advanced, high-grade durable materials.
Precision fit for ultimate comfort.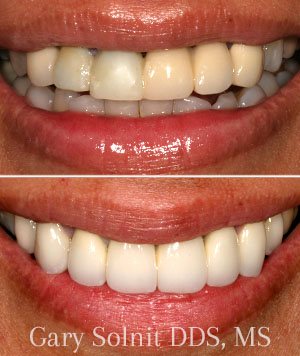 Why Choose Gary Solnit, DDS for Dental Crowns in Beverly Hills
You'll receive treatment from a top rated prosthodontist in Beverly Hills, CA.
Highly-reviewed on Yelp!, Healthgrades & Google.
Cutting-edge technology & advanced materials used.
Years of experience in providing Dental Crowns to Beverly Hills.
Find Out How Gary Solnit, DDS Can Improve Your Smile!
Crowns are "cemented" onto an existing tooth and fully cover the portion of your tooth above the gum line. In effect, the crown becomes your tooth's new outer surface. Crowns can be made of porcelain, metal, or both. Porcelain crowns are most often preferred because they mimic the translucency of natural teeth and are very strong.
Crowns or onlays (partial crowns) are needed when there is insufficient tooth strength remaining to hold a filling. Unlike fillings, which apply the restorative material directly into your mouth, a crown is fabricated away from your mouth. Your crown is created in a lab from your unique tooth impression, which allows a dental laboratory technician to examine all aspects of your bite and jaw movements. Your crown is then sculpted just for you so that your bite and jaw movements function normally once the crown is placed.
Patient Testimonial
"Twenty years of excellent and personalized dental care. Today was no exception. Dr. Solnit delivers the very highest quality dentistry every single visit."
- Norman C.
Gary Solnit, DDS provides dental crowns & caps in Beverly Hills & surrounding areas including Century City & Los Angeles, CA. Call us to learn how crowns can transform your smile!