Full Mouth Reconstruction in Beverly Hills by Prosthodontist, Gary Solnit, DDS
If most of your teeth are severely worn down, decayed, or damaged, they can impair the function of your mouth and adversely affect the appearance of your smile. Depending on the specifics of your case, Dr. Solnit may recommend a full mouth reconstruction (FMR).
Also referred to as full mouth restoration or rehabilitation, this procedure involves rebuilding all the teeth in your mouth and simultaneously adjusting your jaw to counteract any issues that may have been caused by your bad teeth. This comprehensive restorative treatment is intended to reverse the effects of aging and neglect, and restore the health, function, and aesthetics of your mouth, giving you a natural-looking and attractive result that makes your smile appear younger.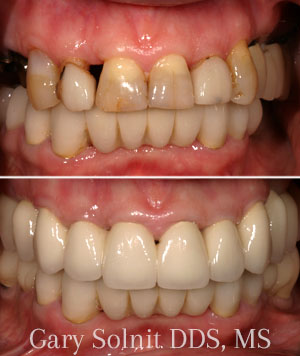 Only a skilled and trained prosthodontist like Dr. Solnit can handle a case that requires focus on the function and bite of a patient.
What to Expect
A full-mouth reconstruction generally targets all the teeth in your mouth. This implies that multiple restorative, orthodontic, and cosmetic treatments may be necessary to rehabilitate the function, comfort, and appearance of your mouth and restore your oral health. Some of the common treatments include:
Prophylactic teeth cleaning and gum care
Gum recontouring - to create uniformity and balance in your smile
Crown lengthening - to expose healthy tooth structure for proper crown or bridge placement
Tooth preparation for bridges, crowns, or veneers
Temporary restorations - so you can continue to function properly as you wait for fabrication of the permanent restorations. They also give you the feel of your new teeth so you can start getting used to the new bite alignment
Implant placement - to replace missing teeth or to support full dentures
Permanent restorations - placement of crowns, bridges, veneers, or inlays/onlays
Bone or gum tissue grafting - for proper stability of your restorations
Orthognathic surgery - to reposition your jaw
The Procedure
To determine whether you're a good candidate for full-mouth rehabilitation. Dr. Solnit will perform a comprehensive oral examination to identify the root of your dental problems. Depending on the diagnosis, you will create a custom treatment plan to correct problematic areas as follows:
Teeth - Decay, cavities, cracks, tooth wear, short or long teeth, loose teeth, damaged restorations and other problems can be corrected through various dental restorative procedures (crowns, veneers) or extracted and replaced with implants, bridges, or dentures.
Gums - Scaling and root planning may be necessary to treat advanced gum disease. Soft tissue and bone grafting may also be necessary to build up your gum and jaw bone to support teeth repair/replacement.
Jaw - Orthodontic treatment may be recommended to correct misaligned teeth. Other treatments, including jaw surgery, may be necessary to correct temporomandibular joint (TMJ) problems.
Smile - Finally, Dr. Solnit will assess the shape, size, color, and proportion of your teeth relative to your gums/lips/mouth/face and give you a smile makeover.
Who is the right candidate for full-mouth restoration?
Many patients looking for a full-mouth reconstruction often mistake this procedure with a smile makeover. Although both treatment plans involve more than one dental visit and aim at improving your smile, a smile makeover is an optimal cosmetic treatment that is primarily aimed at enhancing your smile.
A full-mouth reconstruction will definitely improve your smile. But it is primarily aimed at improving the function and health of your mouth. You may be a candidate for FMR if:
You have lost multiple teeth from decay or trauma
Your teeth are severely fractured or injured, and any fillings and other repairs are weak and damaged
Your teeth are severely worn - like due to tooth grinding or long-term acid erosion
Jaw problems, chronic headaches, and muscle pain due to misaligned bite
Find out more about full mouth reconstruction
If you feel that you may be a good candidate for full-mouth rehabilitation, or would like to learn more about restorative and cosmetic dentistry options in Beverly Hills, please contact us to schedule an appointment with Dr. Solnit. We are happy to discuss your case and take you through your custom treatment plan to help you realize your dental health goals.
Patient Testimonial
"Dr. Solnit is the best prosthodontist by whom I've been treated. He is extremely knowledgeable in his field. He and his staff are professional, personable, and competent."
- Adolf D.
Gary Solnit, DDS, Prosthodontist in Beverly Hills, provides Full Mouth Reconstruction to surrounding areas including Century City & Los Angeles, CA. Call us to learn if we can help you with your smile.