Beverly Hills Occlusal Disease Treatment & Adjustment | Gary Solnit, DDS
Occlusal disease is caused by a misalignment or incorrect relation between the teeth of the upper and lower dental arches, also called malocclusion. If left untreated, occlusal disease can damage your teeth, the supporting bones and gums around your teeth, temporomandibular joints, and the jaw muscles you use for chewing.
Many people dismiss excessive or abnormally accelerated tooth wear as "natural aging or wearing" of teeth, but your dentist can provide treatment to alleviate the pain and discomfort caused by occlusal disease.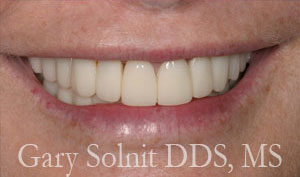 Temporaries Look Amazing So You Don't Worry About the Transition
Signs and Symptoms of Occlusal Disease
Enamel wear
Tooth cracking or breakage
Tooth sensitivity
Gum recession
Loss of bone support
Muscle pain
TMJ symptoms
Our goal is to preserve the oral health of our patients, as well as to anticipate the long-term results when restorative treatment is provided. Treating occlusal disease can lead to a long life of optimal oral health and restorative treatment success.
Patient Testimonial
"Always a great experience; very professional and friendly treatment! Keep it going; you are all doing a terrific job!"
- Dan B.
Gary Solnit, DDS provides occlusal disease treatment in Beverly Hills & surrounding areas including Century City & Los Angeles, CA. Call us to learn how we can restore your smile!